Webinar: crisis management solutions during covid-19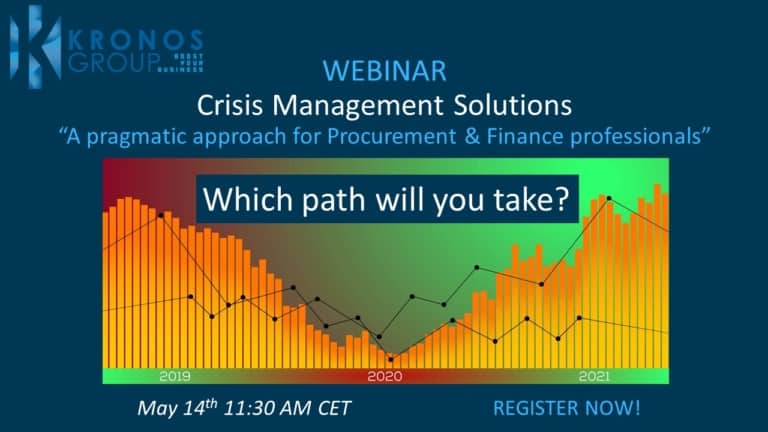 The question businesses in every corner of the world are facing during these uncertain times is how to continue operations during, and in the aftermath of, COVID-19. Moreover, the question of remaining financially viable while creating a safe environment for employees is another concern that hangs heavy on the minds of business owners.
One thing is for certain, priorities must evolve. Employee health and safety, and the wellbeing of the wider community, must be the highest priority during this time. That being said, there's also plenty of pressure to retain jobs and keep the economy going.
That's precisely why strategic decisions must be made to protect the company and its stakeholders through this crisis and ensure each company's continued survival.
Due to the unprecedented nature of this pandemic, plenty of companies find themselves caught off-guard and struggling to cope and adapt to the situation. This is especially challenging due to constant shifts in the crisis.
The Crisis Management Webinar Series hosted by Kronos Group aims to provide pragmatic solutions and share valuable information during this time of uncertainty.
The Crisis management solutions webinar, this week, will not only help you survive these difficult times but also help you add value to your business and ensure that its long-term growth is not lost as a result of your short-term survival strategies. Accordingly, the upcoming webinar will centre on the three main phases of the crisis: Lockdown, end of lockdown, and recovery.
The 30-minute webinar will explore the context of COVID-19, the unique challenges each of these phases present to companies, the specific operational sectors on which the burden of each challenge will fall, and pragmatic strategies that mitigate its long-term impact on critical business levers.
Kronos Group believes in the potential of both the procurement and finance functions of a business. This session outlines the relationship between the two and how these functions must interact to optimise the level of success you enjoy. The actionable strategies presented at this webinar will transform the association between your procurement and finance functions from a basic level to best-in-class performance.
Procurement and finance have major roles to play in many companies. This means that the strategies implemented in these areas of operations often have far-reaching consequences. Strengthening these interactions, in fact, leads to changes in many key areas.
Kronos Group's crisis management webinar will not only help you determine strategies to improve the performance of your organisation during this time, but also understand the shifting priorities that guide these changes.
Signing up for the Crisis management solutions webinar will help you explore:
– The key priorities for procurement and finance professionals
– The best practices and solutions to overcome these challenges
– The value of the partnership between procurement and finance
You will learn how to set up a crisis management task force and deal with a lack of resources, disruption to business operations, and stalled business activities.
If you are currently part of the workforce, this is a webinar you don't want to miss.
Kronos Group's areas of expertise range from advisory, transformation, outsourcing, and operations consulting. Their experience in these fields, and in leading their clients through their Procurement 4.0 and Finance 4.0 journeys, has led to their development of proven best-in-class methods and solutions that are well-suited to guiding companies to optimise their operations.
Procurement priorities for Kronos Group lie in value-creation and mitigating risks. Their goal for the finance function is to enhance financial performance through in-depth analysis and targeted recommendations. Kronos Group takes pride in delivering successful solutions to all its clients and sharing their expertise with a wide audience during these difficult times, through these webinars.
Kronos Group's Crisis management solutions webinar will go live on Thursday, 14th May, from 11:30 AM – 12:00 PM CEST. Plan ahead for the impact of COVID-19, learn how to shift your priorities to manage this crisis, and strengthen your procurement and finance operations by registering for the webinar now.
Pragmatic approach for Procurement & Finance professionals
Pragmatic solutions to transform your business functions
Gain access to actionable strategies to help you transform your organisations procurement and finance functions