Webinar : optimise your business in the wake of covid-19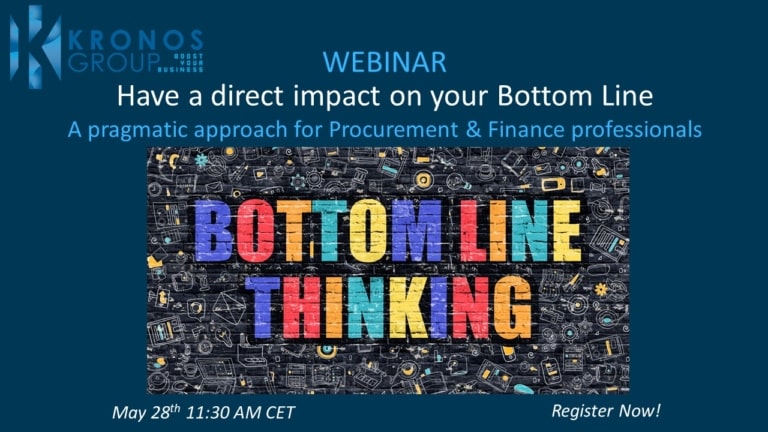 The full economic impact of COVID-19 on businesses is yet to be realised, but every industry around the world has had to adapt to these circumstances. Finances must be reorganised, working practices must be adapted for the safety of the workforce, and in all aspects of the production process, diligent safety and hygiene standards must be adhered to.
Kronos Group's Crisis Management Webinar Series aims to help all companies, regardless of their size and industry, to enhance their operations for maximum efficiency and ensure value-addition across all their processes.
Our next webinar in the series is tomorrow, Thursday, the 28th of May from 11:30 AM to 12:00 PM CET. Benoit Graas, a partner at Kronos Group, is slotted in as the speaker and he's set to explore the impact of COVID-19 on businesses and its financial ramifications.
The webinar will teach you how to build sustainable bottom-line thinking, how to optimise your bottom line, why finance and procurement are catalysts for change, and critical factors for success. At the end of the day, you receive pragmatic advice and expertise straight from top Kronos Group specialists.
Through this series of webinars, we aim to share the best practices of an industry in which we have extensive experience and thorough knowledge.
In an age of constant innovation, it's vital that businesses adapt and persistently embrace new technologies and opportunities for efficient growth in all areas. Even if your business is successful, adhering to bygone processes is no longer sustainable. The immense pressure to perform under challenging conditions must be the incentive your company needs to transform instead of just improve.
Transformation is what we, at Kronos Group, always aim to create for our clients. In order for a business to fully and successfully optimise its finances, every area of the company must be analysed, assessed, and finally, transformed. This is especially critical during unprecedented times such as the present crisis, to ensure that your business can survive and recover quickly.
We have experience guiding companies through their Finance 4.0 and Procurement 4.0 journeys and have developed key methodologies required for a step-by-step guide to enhancing your company's finances.
We understand the best ways to generate high value and significant procurement savings, with our effective spend management platform and highly targeted spend-optimisation process.
We will not only highlight the challenges your business will face during this lockdown and the solutions needed to combat these challenges, but we will also discuss solutions to the challenges your company will face post-lockdown and during the recovery period.
Kronos Group's emphasis on sustainable value-addition aims to help your business survive during this crisis in the short-term, while ensuring that this short-term activity doesn't harm your long-term goals. Our success in the advisory, transformation, outsourcing, and operations consulting fields enables us to equip you with the tools, resources, and understanding you need for your business to make it through this downturn.
Registering for our Crisis Management Webinar Series to find out more about what you need to do to shift your business priorities, implement a crisis response, and the areas you need to focus on to optimise your bottom line post COVID-19.