PRESS RELEASE:
EPSA, Kloepfel Group and Kronos Group's alliance creates one of the largest pan-European business transformation and performance advisory organization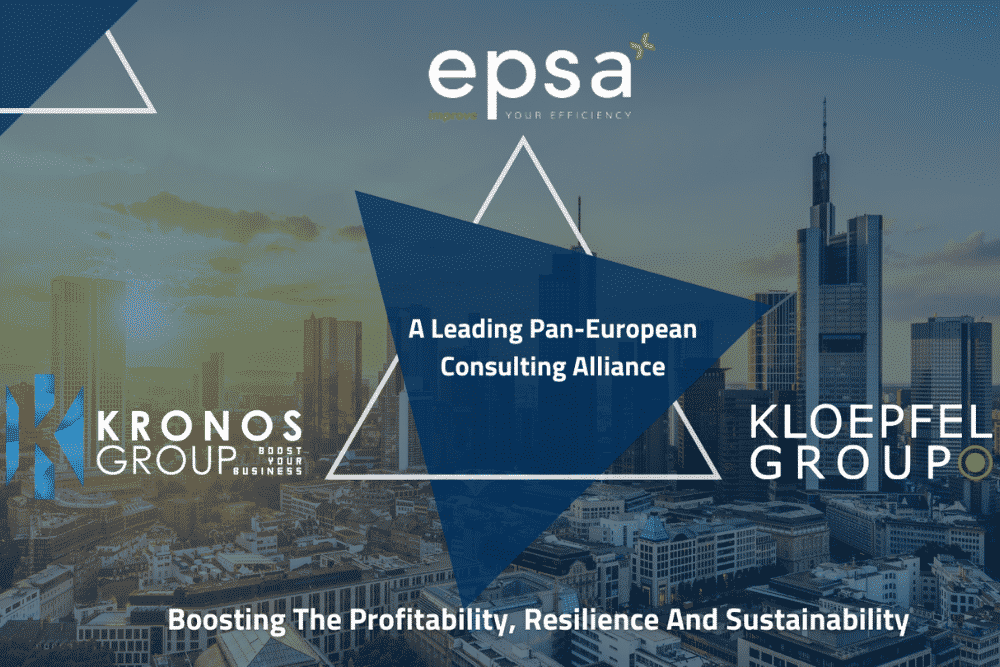 Paris/Düsseldorf/Brussels, June, 23rd, 2021
By joining forces, EPSA, Kloepfel Group and Kronos Group have become the leading pan-European procurement service provider, complementing each group's strengths and expertise in business transformation, finance, project management, tax and innovation.  This alliance is now capable of providing global support and comprehensive, tailor-made solutions to boost the competitiveness of European companies.  At a time when profitability and solvency risks are increasing, the shortage of raw materials and the disturbance of supply chains are intensifying, companies from all sectors are forced to tackle new challenges.  This structural crisis is forcing economical actors to reorganise or even restructure and find new levers to deal with this unprecedented operating environment.  In addition to a vast geographical reach, the synergy made possible between these three players offers a unique combination of complementary expertise from business strategy, finance and operational transformation to purchasing and supply chain optimisation, the re-engineering of production means and costs, complex project management and the deployment of digital solutions.
Complementary expertise to help businesses take on new challenges and drive bottom-line results
The purchasing consultancy Kloepfel Consulting, the fourth-party logistics company Kloepfel 4PL, the procurement outsourcing specialist Kloepfel Services and the product cost optimiser Kloepfel Engineering count over 200 employees and are responsible for annual sales amounting to approximately €25 million. These companies are amongst the leading purchasing service providers in the DACH region, Eastern Europe and the Netherlands. In 2021, Kloepfel Consulting was even awarded the prestigious title of "Best Consultants" by the German business magazine, Brand eins, for the sixth time in a row.
Kronos Group is mainly active in Europe and operates in the fields of procurement consultancy, finance, project management and business transformation.  With over 140 experts, Kronos Group is a rapidly growing European company, generating over €14 million in turnover per year. The group has received various prestigious honours, recognising their exceptional development, including being named one of "Europe's 1,000 fastest growing companies" by the Financial Times in 2018 and 2019.
EPSA Group's 1,300 employees serve 4,500 active customers in 30 countries. The company has boasted uninterrupted growth over the last five years, reaching annual net sales of €170 million in 2021. A proven and respected actor when it comes to industry performance, the group has managed to save over €3.6 billion for its customers since 2001. EPSA focuses on organisational transformation, supply chain performance, tax and social charge optimisation, innovation financing, energy consumption optimisation, procurement consultancy and outsourcing through the EPSA Marketplace.
New levers to drive business performance with a unique European player
Matthieu Gufflet, Founding President of EPSA, states: "This alliance reinforces EPSA's position across Europe. Together with Kloepfel and Kronos Group, we've become one of the largest Pan-European business transformation & performance advisory groups with additional locations in America and Asia. The recent sanitary crisis has clearly shown that companies are looking for new levers of performance optimization on a global level. In the post-crisis world, business models, organizations and supply chains will need to be reinvented: our ambition is to work hand in hand with our customers to drive the transformation needed in order to tackle the challenges that lay ahead".
Marc Kloepfel, CEO of the Kloepfel Group, explains: "We decided to take this important step in order to consolidate our position in the global market, to bring fresh know-how on board and to be able to develop the entire group much faster. We are looking forward to working with EPSA & Kronos Group and are absolutely sure that we have found the right partners for our further development. Our alliance offers companies every opportunity to take their purchasing to a new level as a driver of returns and innovation in global competition".
Catherine Van Wonterghem and Benoit Graas, Founders of Kronos Group: "In less than ten years, we have grown to become the leader in our market thanks to the development of a talented team of consultants and experts. Today, we are eager to accelerate our journey towards European leadership in our fields of expertise. This new and strong alliance allows us to join a family that shares the same vision and entrepreneurial culture while maintaining a high level of autonomy. We are extremely motivated to be part of this new adventure together with all our colleagues across Europe".