How an Ivalua demo helps you build a clear procurement roadmap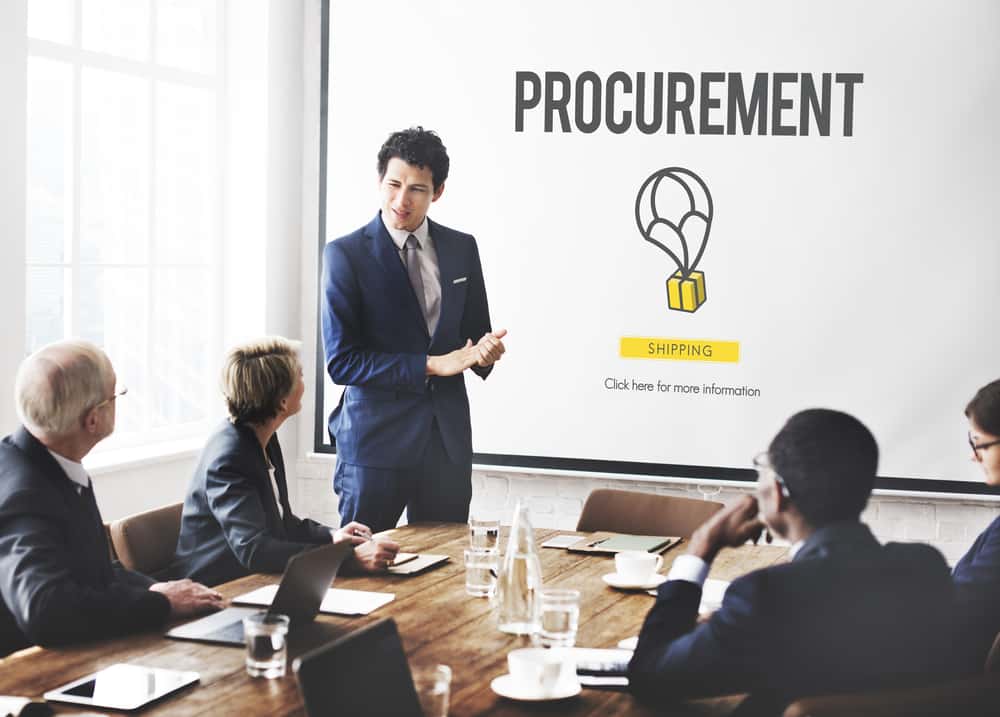 Summary
Identifying a clear roadmap for your procurement function can help you discover the future of your business. In order to do this, a company must distance itself from its current operations.
In this Kronos Group blog post we explore:
The tools you need to build a clear procurement roadmap: Ensure that your company has the right systems in place to achieve the growth it aspires to. An Ivaua demo gives companies a look into its possibilities for procurement growth. Cutting-edge digital solutions are ideal for companies struggling to recover post-COVID-19 or those looking to supercharge their procurement post-crisis.
How the right solutions will help you set higher goals: Understanding what your business is capable of will help you identify realistic goals for your business. Once you introduce and implement leading procurement technologies, your opportunities for procurement growth will expand.
Focus on your sustainability goals with Ivalua: Industry leaders such as Ivalua develop procurement technologies that support the current climate and industry priorities. In the market, a major force is sustainability. Delivering value outside of financial concerns and preparing your procurement processes for long-term sustainability is more achievable with Ivalua technologies.
Also, learn how our team of procurement professionals support the implementation of Ivalua processes.
A business is constantly in motion. Especially in today's economic climate, slowing down is a luxury few businesses can afford.
The idea of stepping outside of daily functions to assess your procurement at a distance does not usually appear in guides to successful procurement. Here at Kronos Group, we believe that seizing the opportunity to step away from your daily operations can yield transformational benefits.
Both in business and daily life, humans tend to be creatures of habit and routine in many ways. While routine can be a good thing, it can reduce the desire to take risks. Risks are the lifeblood of business growth and success.
There is no move a business can make that is devoid of risk. Especially if you wish—as most businesses do—to distinguish yourself from the competition.
In an increasingly competitive, global marketplace, staying competitive is key to winning over customers and establishing your presence. This means that routine will not cut it. So, how can your business break from routine?
Taking a step back to analyse your functional operations is a good starting point.
Making an assessment of your procurement operations is imperative to understanding the strengths and weaknesses of your processes. To make a fair assessment, separating from internal biases is necessary.
This analysis, if done thoroughly, will showcase where your procurement processes currently stand. This knowledge can be compared to your procurement goals and ideal procurement function. The gap between your goals and current procurement standing can then be identified and the path to achieving these goals can be forged.
A roadmap to procurement is a feature that can benefit any business regardless of its growth, stage or industry.
The tools you need to build a clear procurement roadmap
When creating a procurement roadmap, it is important to tap into the potential of your procurement operations as well as your procurement goals.
Too often, a business' procurement goals are too ambitious to be achieved with its current operational systems. This is not a setback as long as you are prepared to make the necessary investment to enjoy procurement success.
The best way to ensure that your plan will lead your function to success is to use the right tools and assess the options available to you. This means trusting procurement leaders and solution providers.
Ariba, Coupa, and Ivalua are three leading source-to-pay suite providers that support organisations with their procurement optimisation goals. In this post, we will focus specifically on Ivalua.
Ivalua is an industry leader in source-to-pay suites, powering digital transformation for procurement across industries and businesses around the world.
When you book an Ivalua demo, you witness how their cutting-edge solutions help your company recover from a crisis or optimise its operations for short- and long-term success.
Take your procurement function beyond your goals with an Ivalua demo
An Ivalua demo opens up possibilities for your business and envisions what your company could look like if it leveraged the right tools and software.
Staying up to date with the latest developments in Procurement 4.0 is important to ensure that your company is putting its best foot forward. With Ivalua, you receive firsthand information about the best and most innovative solutions available on the market.
This helps you visualise a better roadmap for your procurement goals. It can even help you identify the ways in which your goals could be more ambitious.
By having the right software backing up your plans, it is much easier to achieve business growth.
Focus on your sustainability goals with an Ivalua demo
As a generation that is more aware than ever of the effects of climate change on our future, we can no longer ignore the impact of business operations on the environment.
Procurement is about much more than finding the cheapest supplies and services. Its value must move beyond monetary aspects and deliver greater value to collective priorities too.
Digitalisation helps you achieve this by supporting streamlined business operations and integration across the board. All areas of business are undergoing a digital transformation and procurement—both public and private—are no different. The full support of the EU in these endeavours are indicators of progress in the industry.
Maintaining the sustainability of procurement while supporting business growth is not possible without the right tools.
How can Kronos Group help?
Here at Kronos Group, we understand what it is like to yearn for growth and stability. That is why we share our knowledge and tools with companies who want the same. We back it up with our experience in the fields of procurement, finance, and project management.
Every business is unique, which means that even when it comes to implementing industry-leading solutions, we need to accommodate these differences.
Our team of procurement transformation consultants help you enjoy the full benefit of Ivalua solutions. We guide you through the entire process from roadmaps, assessments, and project preparation to design, development, and training. We also offer continuous support, maintenance, upgrades, and new functionalities.
Take the opportunity to step back and reassess your current maturity level and learn more about how best-in-class procurement processes and technologies improve your efficiency and competitive advantage.
Find out how to implement and enjoy the benefits of Ivalua solutions when you book a demo with Kronos Group.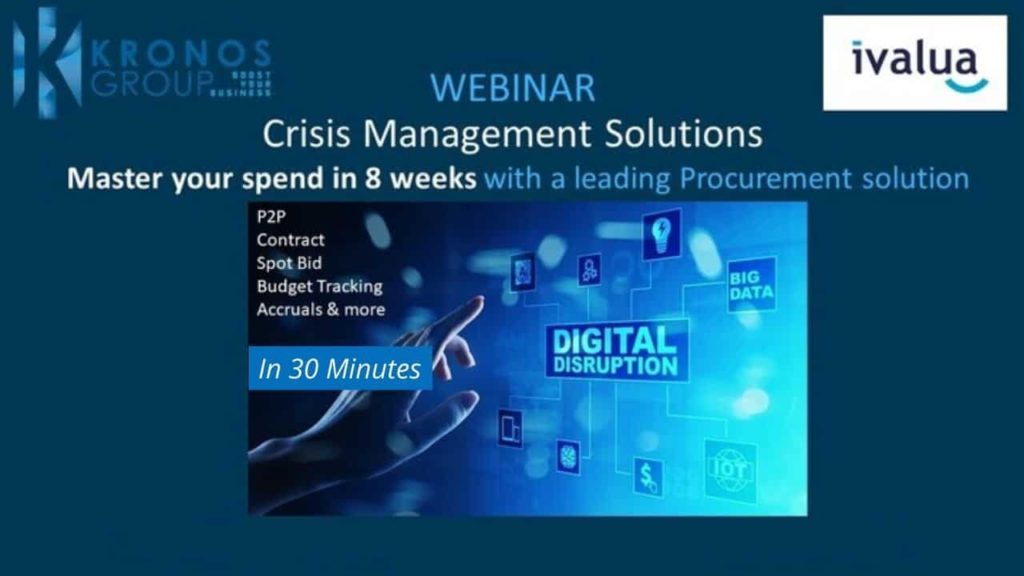 Get access to our free webinar and learn more about how to leverage procurement consulting to optimise your SRM