Crisis management solutions: implement a procure-to-pay solution in 8 weeks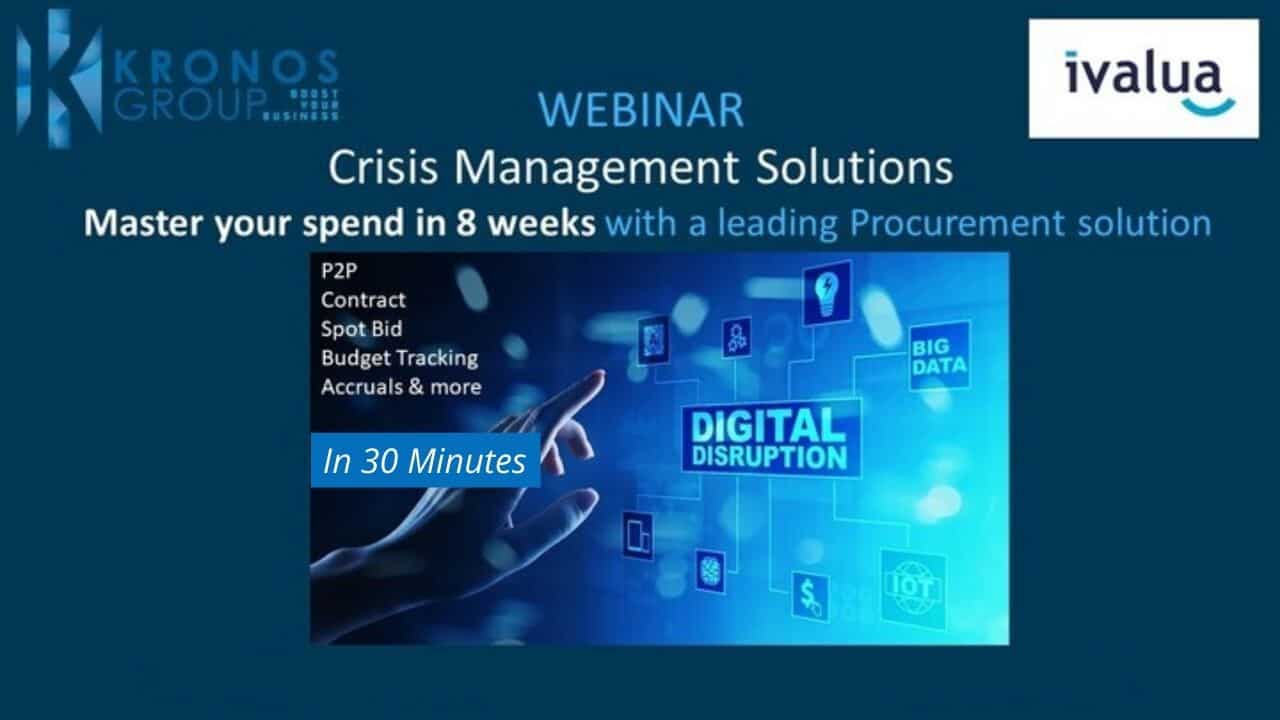 When it comes to recovering from an unprecedented global crisis like COVID-19, we know that the solution isn't as easy as looking for ways to increase revenue. When it comes to recovery strategies, at Kronos Group, we consider sustainable ways to grow. Through our Crisis Management Solutions webinar series, we provide pragmatic, actionable, step-by-step methodologies that help you optimise your business, add value to your operations, and ensure that your long-term goals are not sacrificed for short term survival.
This week, we continue this series with another pragmatic, best-practices-based solution to help businesses recover from the COVID-19 pandemic.
The impact of digitalisation on COVID-19 recovery
When social distancing regulations and remote working practices were put in place, almost every industry turned to digitalisation and technology to continue their operations remotely.
Kronos Group believes that digital solutions are the future of business operations. Digitalisation and technology are tools that can, and should, be leveraged not just during a crisis but for the optimisation of all businesses during any economic climate. These solutions produce the resources a company needs in order to invest in higher value-added activities and improve efficiency and accuracy in their operations.
As leading procurement consultants, Kronos Group values the enhanced productivity afforded by innovation and technological developments in our own procurement operations. Our cutting-edge Environment Perception Tool© is just one tool that we implement in our procurement maturity assessments. This tool swiftly scans all business activity, allowing our skilled consultants to use the accurate data this provides to produce targeted, practical solutions to deliver the highest value to our clients.
How you can benefit from Kronos Group's expertise
The next webinar by Kronos Group is Crisis Management Solutions: Implement a procure-to-pay solution in 8 weeks.
This webinar will not only provide actionable insights through our professional panel of speakers, but will also offer companies a timeline during which they can put these solutions into practice, and track the progress of their efforts.
The session will take you through the value of digitalisation for the procurement function, the procurement paradigm, the benchmarks of procurement that will lead you to a best-in-class functionality, how to analyse procurement maturity, and the impact of COVID-19 on efforts to digitalise procurement. Our experts will then outline a procurement action plan that will help you establish a successful procure-to-pay plan in just eight weeks.
Gain access to the Ivalua advantage on our webinar
Another reason why you don't want to miss this webinar? We will also be delving into the practices made possible by Ivalua's software capabilities and expertise in the field.
Ivalua is a unified platform that caters to all your sourcing and procurement software needs through their source-to-pay suite. Kronos Group enjoys a dynamic partnership with Ivalua and were the proud recipients of the Ivalua Best New Partner award for our successful delivery on challenging projects.
When it comes to optimising the procurement function through digitalisation, and the allocation of resources for higher value-added activities, the Ivalua advantage is what all businesses can benefit from during their recovery.
At Ivalua, their services fall under a variety of operations designed to empower the procurement function. Their solutions include:
– Supplier management
– Sourcing
– Contract management
– Procurement
– Invoicing
– Strategy and analytics
The Ivalua P2P package also transforms your business in just eight weeks while laying a strong foundation for your procurement function. This empowers you to customise your processes to meet your needs and industry standards.
Register for the Crisis Management Solutions webinar series today
Our webinar, this Wednesday, will help you boost your financial recovery timeline and aid the implementation of a P2P and contract solution. The discussion will also explore:
● Spot bidding
● Budget tracking
● Accrual processes and activities
Tune in on Wednesday, 20th May, from 11:30 AM to 12:00 PM CEST to clear your uncertainties and formulate a plan to help your company navigate these difficult times.
Register today to kickstart your recovery timeline with Kronos Group. We look forward to having you with us!
Crisis management solutions
What roles do procurement and finance play in crisis management?
Leverage expert-led solutions to manage risks and reduce impacts within your organisation