Kronos group webinar: focus on the right priorities for digitalisation and outsourcing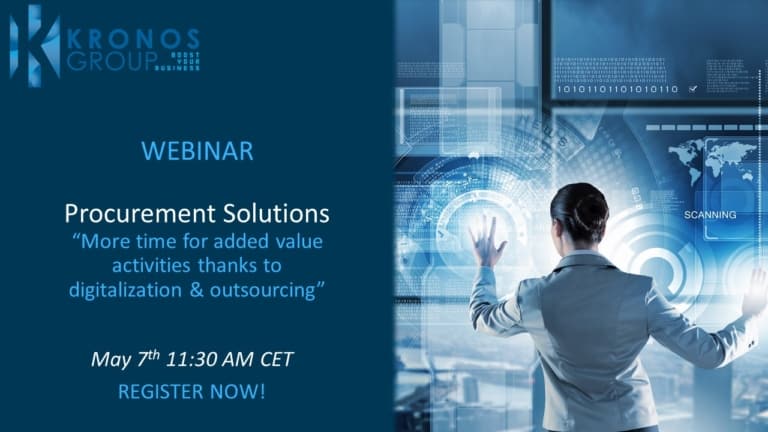 The digitalisation of business activity saved many companies from having to shut down when quarantine laws and lockdowns were initiated by governments all over the world. Its ability to cut down costs and provide a stable platform for businesses to operate remotely has transformed businesses around the world.
Adapting to new technologies, constantly striving to innovate, and getting ahead of the competition is a priority for companies operating in the 21st Century. Swift adaptation and constant flexibility are easier said than done, however.
Outsourcing has the potential to significantly cut down on business expenses and to give more time and resources to focus on higher value-added activities, thereby accelerating growth and development.
In order for outsourcing to be successfully leveraged by businesses, however, an assessment must be made addressing several factors. These factors include understanding what processes are worth outsourcing, how to identify lower value-added activities, and the value-added activities that can replace the outsourced tasks, among many other critical considerations that determine how successfully you outsource.
The next webinar in Kronos Group's Crisis Management Series tackles this very topic. Digitalisation and outsourcing during, and in the aftermath of, COVID-19.
This webinar series aims to help businesses determine their priorities in the midst of this crisis, how to progress through these difficult times and adapt to the corporate world that will emerge, post-pandemic.
This week's session is scheduled for Thursday, the 7th of May, from 11:30 AM – 12:00 PM CEST. Here, we will explore:
– Our procurement mission and its value for your business
– Assessing the potential of digitalisation for businesses in Europe
– The benefits of outsourcing specific operational tasks
This session will also discuss the categories of business activity that one should consider outsourcing, how to advance your procurement journey, the categories in which Kronos Group's expertise lie, priorities worth honing in on to survive COVID-19, the recovery phase of procurement, and how to assess one's company, the risks and correlation between strong digitalisation and effective outsourcing capabilities for a business.
You will hear from procurement and Business 4.0 experts as they impart pragmatic insights, tailored to today's uncertain economic climate.
If you're looking to streamline your business, hear from industry experts on post-COVID-19 challenges, and make room for higher value-added activities in your company – and a more effective business model – then this webinar is for you.
Kronos Group has made a name for themselves with their range of expertise in the procurement, finance, and project management fields. Their professionalism, optimism, innovation, and investment in the development of their highly skilled team sets them apart.
Through these webinars, Kronos Group makes their expertise accessible. Their crisis management solution, aimed at helping businesses focus on the right priorities through digitalisation and outsourcing, can be narrowed down to a seven-step methodology. Over the course of the webinar this Thursday, they will break down and expand on each aspect of this methodology.
Kronos Group offers companies the opportunity to progress, evolve, and reach new heights during this economic downturn. With their insights, they ensure that your company is making time for value-added activities by not wasting resources, manpower, and time on processes that can be outsourced.
The strategies that are shared in this series are tried-and-tested and are best-in-class practices that may help your business weather the storm. This series is a great way to clear some of the uncertainty that is defining global businesses and economic activity during this time.
Register now to learn more about the opportunities digitalisation and outsourcing make possible with Kronos Group's webinar: Focus on the right priorities for digitalisation and outsourcing. We look forward to your participation!
Business optimisation through digitalisation and outsourcing
Focus more on your organisation's higher value-added activities
Optimise your organisations recovery process with the help of digitalisation and outsourcing