Kronos Group webinar: Crisis management – eAuction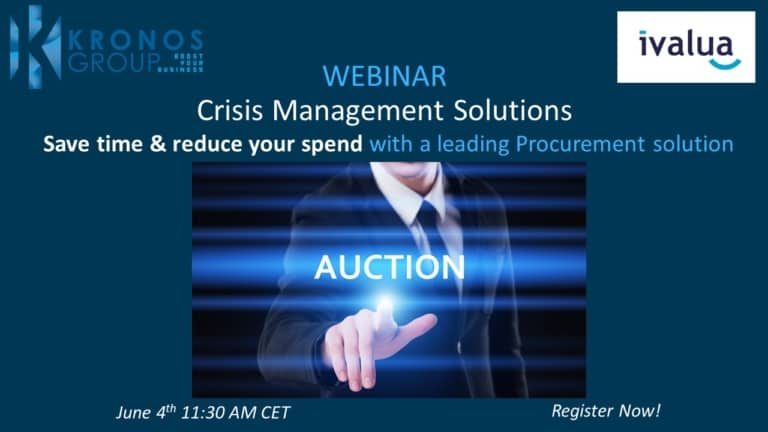 An eAuction is a transaction that takes place on an electronic marketplace between sellers/auctioneers, bidders/suppliers, between businesses, between a business and its clients or between two consumer parties.
Despite the advantages of eAuctions, however, there is resistance from procurement professionals when it comes to leveraging this function. This means that while eAuctions are recognised as a powerful procurement tool, it has not yet been fully developed and implemented by businesses that can benefit from it.
That is until the COVID-19 pandemic changed everything we thought we knew about running a business in the modern age.
Digitalisation and technology have been at the forefront of business development for a couple of decades now, but their capabilities haven't been leveraged the way they have been in the past few months. This crisis has forced businesses to become more innovative as a result of social distancing, boosting the necessity of digitalisation.
How does procurement benefit from eAuctions?
eAuctions open up new horizons for the procurement function. The future of procurement, post-COVID-19, will be based heavily on the personal and emotional bonds between suppliers and clients, businesses and vendors. The human connection will play a much more prominent role in company interactions. However, eAuction can be used to introduce a fair competition between current and new suppliers in order to optimize costs and risks as well as introducing new players.
Although eAuctions are not a new digital platform, they aren't widely used or discussed within the current business landscape. Knowledge of the function is limited.
How can you leverage eAuctions?
At Kronos Group, we understand the importance of technology and digitalisation when it comes to business optimisation. Our webinars are designed to disseminate knowledge and best practices based on our extensive experience and knowledge in this field.
We believe in the power of the procurement function and know the transformative value of digitalisation. Our Environment Perception Tool© is just one example of the technology that allows us to enhance our efficiency and provide swift and effective service to our clients. We're passionate about sharing industry best practices and helping our clients and other businesses reach their true potential.
Our next webinar will answer all the questions you have about eAuctions. Hear from experts about the capabilities and advantages of eAuctions including cost-savings that increase market fluidity and economic stimulation, easier entry into new markets, and streamlined processes that create a more dynamic business environment.
Some key areas our Crisis Management – eAuction webinar will cover are:
An overview of the many types of eAuctions and their specific advantages
How eAuctions enhance sourcing and boost the procurement performance of your business
How the Ivalua advantage empowers procurement and the integration of business operations
What is the Ivalua advantage?
Kronos Group has enjoyed a longstanding partnership with procurement giant, Ivalua, since 2017. This partnership was first initiated in a bid to provide our clients with the best source-to-pay suite available on the market.
The Ivalua advantage transforms your business through digitalisation, helping you rapidly deploy best practices, achieve best-in-class performance, and enjoy a competitive advantage. When it comes to optimisation and value-addition, Ivalua has all the cutting-edge tools you need to transform your company's procurement function.
Register for the Crisis Management Solutions webinar series today
If you want to learn more about how digitalisation can aid your crisis recovery or find out how to leverage eAuctions to enhance the procurement function of your business, tune into Kronos Group's Crisis Management – eAuction webinar on Thursday, 4th June, from 11:30 AM to 12:00 PM CEST.
Save your seat today to find answers to your burning questions. We look forward to your participation!
How to eAuctions streamline the procurement process
Improve your sourcing capabilites with eAuctions
Streamline your procurement process with the help of eAuctions to start saving valuable time.