Return to performance in 30 days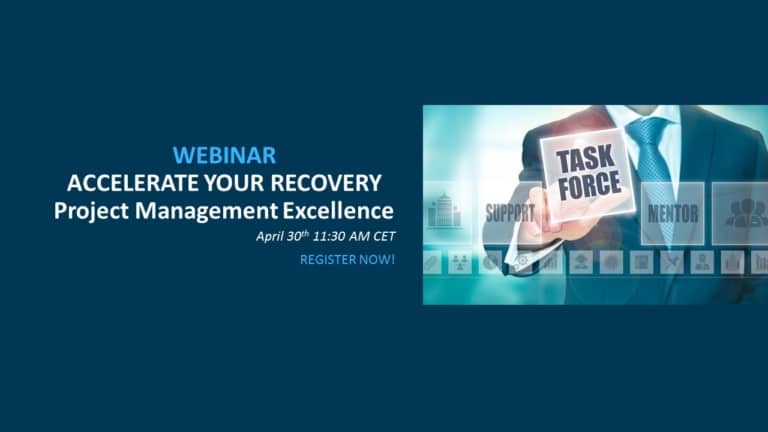 If you're a business owner, manager or employee on the lookout for job opportunities or are a stakeholder in any business, then you're probably apprehensive about what the economic effects of COVID-19 will be on business activity and performance.
Whichever category you fall into, Kronos Group's Crisis Management Webinar Series can give you the answers you're looking for.
The webinars aim to provide practical, actionable insights that help businesses run their operations through the pandemic while helping them prepare for the best course of action to take once the crisis is over.
The next webinar in the series, Return to performance in 30 days, is scheduled for Thursday, 30th of April from 11:30 AM – 12:00 PM CET. It will guide you through Kronos Group's recovery framework and how you can successfully apply this framework to your business in just 30 days.
Kronos Group's extensive knowledge and experience in the industry promises that this accelerated growth framework is built to be sustainable. These webinars, while imparting critical business insights on survival and crisis management solutions, aim to focus on the effects of the pandemic that may have been overlooked. It will also highlight the likely chain of events that will come to fruition post-COVID-19.
This webinar will take you through the widespread economic impact of the pandemic and the three major operational sectors affected by it – operations, global supply chain, and consumer confidence. The speakers will also take you through Kronos Group's expert recovery framework, the three imperatives for an accelerated, sustained growth, the reorganisation steps required to survive the crisis, and the lessons businesses need to learn from this crisis as they move forward.
This advice pertains to all businesses, no matter their size, structure, or the nature of their operations.
In just one 30-minute session, you hear from skilled experts on how to boost performance and organise your operations during these times of global uncertainty. These webinars, powered by Kronos Group's experience, can prevent the uncertainty of the current circumstances from leaking into your business and adversely impacting your long and short-term goals. We help you make business decisions with more confidence and knowledge when you subscribe to these sessions.
The session coming up this Thursday will show you how to create value in your business during this crisis, using the simple methodology developed by Kronos Group. Accordingly, this session will include a discussion of the following topics:
– Proven project management best practices
– The value of a temporary, central PMO to manage and deliver on your business priorities
– How project management efficiency can transform your business
If you're concerned about the future of your business then Kronos Group can help you not only survive this crisis but also add value to your business and protect your company's future by strengthening your resilience.
Kronos Group implements the best tools on the market to help clients develop and run their PMO, programme management, and projects. One such tool is the Environment Perception Tool that thoroughly and swiftly assesses the maturity of your business in order to help the team of project management consultants produce a highly targeted, efficient strategy that optimises every step of your project management system from project selection to final completion.
These practices have helped Kronos Group optimise the operations of countless businesses in many economic climates.
In the wake of COVID-19, Kronos Group is here to share their expertise and industry best practices to a wider audience of business owners in order to help them through this crisis.
Sign up for the Return to performance in 30 days webinar and discover the best ways to adapt your business operations, fulfil stakeholder obligations, add value to your company, and boost business resilience during COVID-19.

https://register.gotowebinar.com/register/8054630065712964619